Quality Parking Lot Sealcoating Services in Reading
R. Stanley's Paving offers professional and reliable parking lot sealcoating in Reading, PA. With 25 years of experience in asphalt contracting, our US-Based, licensed contractors provide quality work with satisfaction guaranteed. We use the best materials available to ensure your parking lot is durable and long lasting. Our free quotes make it easy for you to get started on protecting your pavement investment. Contact us today to learn more about how we can help you with your parking lot sealcoating needs.
Pave Your Way to Success with R. Stanley's Paving: Professional, Reliable, Durable Asphalt Services For 25 Years. Contact Us for A Free Quote Today.
How Can We Help?
We at R. Stanley's Paving understand how important it is to have a properly sealed and maintained parking lot, which is why we offer our professional sealcoating services. We'll make sure that your asphalt will remain durable and long-lasting with the help of our reliable team and quality products. By choosing us for your sealcoating needs, you can rest assured knowing that your parking lot will be in good hands.
Get Reliable Parking Lot Sealcoating with R. Stanley's Paving in Reading, PA!
Looking for a reliable contractor to take care of your parking lot sealcoating needs? Look no further than R. Stanley's Paving in Reading, PA! With years of experience in asphalt work and dozens of satisfied customers, you can trust that the job will be done right, every time.
Get a free quote from R. Stanley's Paving today and let them show you why their reputation is one of reliability. Their experienced staff are more than capable of tackling any project – big or small – and have the tools necessary to make sure the job is completed on-time, on-budget, and up to code. Don't wait: get a free estimate now and find out how R. Stanley's Paving can help you.
Why Should You Choose R. Stanley's Paving for Your Parking Lot Sealcoating Needs?
Does your business's parking lot need some extra protection? Look no further than R. Stanley's Paving in Reading, PA for all of your sealcoating needs! Our sealcoating services offer a great way to protect and maintain the appearance of your pavement:
We create a protective barrier against weather, traffic, and other external damage that can wear down your asphalt over time.
Our sealcoating ensures enhanced durability and extends the life of your parking lot.
You'll be able to save money on costly repairs thanks to this preventative maintenance.
Plus, you'll get peace of mind knowing that your parking lot looks just as good as it did when it was first installed.
R. Stanley's Paving has been providing quality paving services to customers throughout Reading and the surrounding areas for years. With our experience and expertise, we guarantee that your parking lot will look its best with our sealcoating services. Don't wait any longer – give us a call today to learn more about how our sealcoating services can help keep your parking lot looking its best!
Protection, Durability, and Beauty: The Benefits of Parking Lot Sealcoating
When it comes to protecting your parking lot from the elements, sealcoating is a must. Not only does it provide an extra layer of protection against weathering, but it also helps extend its lifespan and keep it looking beautiful. With regular maintenance, you can enjoy these benefits for years to come.
Sealcoating acts like armor for your pavement, shielding it from sun exposure, water damage, and other environmental factors that break down asphalt over time. This protective coating can help reduce cracking, fading, and further wear and tear, ensuring your lot stays in tip-top shape. It also provides excellent traction when wet, reducing the risk of slips and falls on rainy days.
Beyond practicality, sealcoating gives your parking lot a polished look. It enhances the color of the asphalt and creates a smooth, uniform surface that looks great. Whether you need resurfacing or just want to touch up existing asphalt, applying sealcoat will make your lot stand out with a sleek finish. Plus, this low-cost option is quick and easy to apply, so you don't have to worry about long wait times or costly repairs.
In short, parking lot sealcoating offers a variety of advantages, including protection, durability, and beauty. Investing in quality sealcoating now can save you money and headache in the future while keeping your lot looking attractive and well maintained.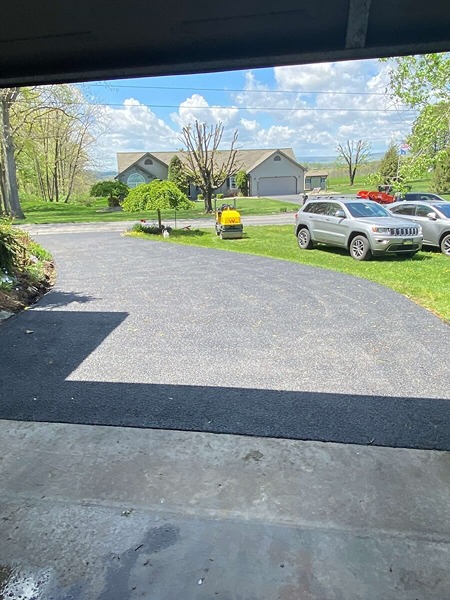 Protect Your Parking Lot with Sealcoating
We all know how important it is to keep our parking lots in good shape. After all, this is the first impression that customers and visitors get when they arrive at your business or home. That's why sealcoating your asphalt surface is a must-have for any property owner.
Sealcoating can help protect your asphalt from sun damage, water penetration, oxidation, and other environmental elements. Not only does it make your parking lot look sleek and professional, but it also extends its lifespan by years. Here are some of the key benefits that come along with sealcoating:
Prolongs the life of your asphalt surface
Enhances curb appeal and aesthetics
Increases safety by reducing potential slips and falls
Frequently Asked Questions
What is parking lot sealcoating?
Parking lot sealcoating is the process of applying a protective sealant or coating to asphalt pavement. This helps to protect the asphalt from the elements, extending its life and preventing costly repairs.
Why should we sealcoat our parking lot?
Regular sealcoating can extend the life of your parking lot and keep it looking great. It also helps to protect against cracking, fading, and UV rays, as well as reduce the need for costly repairs.
How often should we sealcoat our parking lot?
Generally speaking, asphalt should be sealcoated every two to three years to ensure optimal protection.
What can we expect from R. Stanley's Paving?
When you hire R. Stanley's Paving for your sealcoating project, you can expect professional licensed contractors with 25 years of experience, and a satisfaction guarantee. We offer free quotes and are 100% US based.
How long will it take to sealcoat our parking lot?
Depending on the size and condition of your parking lot, the sealcoating process can take anywhere from one to three days.