Affordable Driveway Sealcoating Services in Leesport
R. Stanley's Paving is a professional asphalt contractor based in Leesport, PA with 25 years of experience. Our team of licensed contractors is 100% US-based and guarantees satisfaction with all our services. We offer quality Driveway Sealcoating in Leesport at an affordable price. With our reliable service and free quotes, you can trust R. Stanley's Paving to get the job done right.
Experience The Reliability and Quality of R. Stanley's Paving. Get Your Free Quote Today And Start Paving The Way To Satisfaction!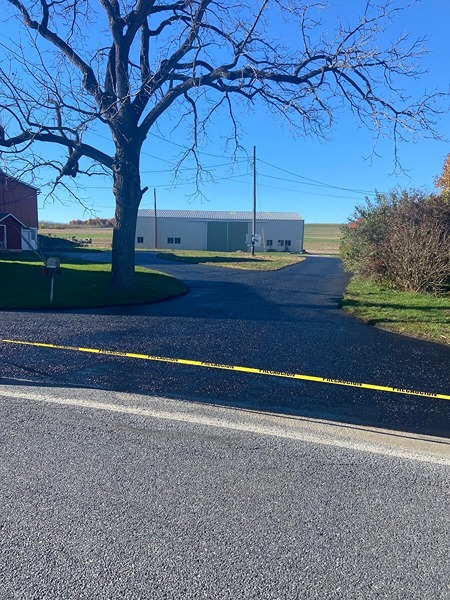 How Can We Help?
At R. Stanley's Paving, we're here to help you with your driveway sealcoating needs. We understand how important it is to make sure that your driveway stays in great shape and lasts for years to come. With our reliable, high-quality services, we guarantee that you'll be satisfied with the results. Our experienced team provides affordable solutions that will ensure your driveway looks its best. Let us take care of all your sealcoating needs so you can enjoy a beautiful drive every day!
Get Quality Driveway Sealcoating with R. Stanley's Paving in Leesport, PA!
Are you looking for a reliable paving contractor to sealcoat your driveway? Look no further than R. Stanley's Paving in Leesport, PA! We deliver quality services, every time. Our core value is quality, and we guarantee that you'll be satisfied with our work.
When you hire us, here's what you can expect:
Professional service from highly trained technicians.
The highest-grade materials are used on all projects.
Safety protocols are followed at all times.
A fair price for the job done right
Protect Your Driveway for Years to Come with R. Stanley's Paving
Is your driveway looking a little worse for wear? Are you worried that it won't last through the winter months? Let us put your mind at ease – our sealcoating services provide long-lasting protection against weathering, erosion and cracking, so your driveway looks great for years to come!
Our sealcoating creates a protective barrier that prevents water penetration and other damage caused by exposure to the elements. This makes it more resistant to wear and tear, so you don't have to worry about replacing or repairing it any time soon. Plus, it gives your driveway an attractive finish that enhances its overall appearance. With our professional sealcoating services, your driveway will look as good as new for much longer.
Protection, Durability, and Aesthetics: Benefits of Driveway Sealcoating
When considering driveway sealcoating, it's important to understand the benefits it can bring in terms of protection, durability, and aesthetics.
First, when you get your driveway sealed, you're protecting it from a wide range of elements that could otherwise cause damage. This includes things like water, oil, and UV exposure which can all lead to cracks and other issues over time. With this protection, you won't have to worry about needing costly repairs down the line.
Durability is also something you'll gain with sealcoating. It adds an extra layer of strength and resilience to your driveway so it can better withstand the wear and tear caused by day-to-day usage. And since it creates a smooth surface, it makes it easier to clean off debris like mud or dirt.
Finally, there's the aesthetic aspect of sealcoating. Not only will it make your driveway look more attractive, but it will also help maintain its color and texture for years to come. The result? An even finish that gives your home a touch of class and sophistication.
In conclusion, sealcoating is one of the best ways to protect, strengthen, and beautify your driveway. So if you want to keep it looking great for many years to come, then sealcoating should be at the top of your list.
Why Is Driveway Sealcoating Important?
We all want our driveways to look great and remain in good condition for as long as possible. That's where driveway sealcoating comes in. It not only helps protect your asphalt from the elements, but it can also keep it looking like new for years! Here are a few reasons why sealcoating is so important:
It protects against UV rays** – UV rays can cause severe damage, fading and discoloration of asphalt over time, but driveway sealcoating acts as a barrier to protect against these damaging effects.
It prevents cracking and potholes** – Regularly applying sealcoating will help prevent cracks and potholes from forming which can be quite costly to repair.
It increases the lifespan** – By regularly protecting your driveway with sealcoating, you can expect it to last longer than if left untreated, saving you money in the long run.
Driveway sealcoating is an easy and affordable way to maintain the beauty and longevity of your driveway. So why wait? Get your driveway seal coated today!
Frequently Asked Questions
What is driveway sealcoating?
Driveway sealcoating is a process where an asphalt sealer is applied to the surface of an
asphalt driveway
to protect it from the elements and extend its life.
How often should I have my driveway sealcoated?
We recommend having your driveway sealcoated every 2-3 years to keep it in top condition.
How long does it take to sealcoat a driveway?
It typically takes 1-2 days to sealcoat a driveway, depending on the size and condition of the driveway.
How much does it cost to sealcoat a driveway?
The cost of
sealcoating a driveway
varies depending on the size and condition of the driveway, but we offer free quotes so you can get an exact cost.
What makes R. Stanley's Paving different from other contractors?
We have 25 years of experience in the asphalt industry and all of our contractors are professionally licensed. Plus, our services are 100% US-based and we guarantee your satisfaction.