Reliable Driveway Paving in Leesport
R. Stanley's Paving is a professional asphalt contractor located in Leesport, PA with 25 years of experience and licensed contractors. We offer dependable and reliable driveway paving services to ensure quality results with satisfaction guaranteed. Our 100% US based team can provide free quotes for any job size so you know exactly what to expect. Contact us today for all your driveway paving needs!
Transform Your Driveway with R. Stanley's Paving: Dependable, Reliable, Quality Results Guaranteed!
Get Quality Driveway Paving From R. Stanley's Paving in Leesport, PA!
Are you looking for a reliable asphalt contractor to pave your driveway? Look no further than R. Stanley's Paving in Leesport, PA! We guarantee quality workmanship and complete customer satisfaction on every project we undertake. Our experienced team has been providing the area with top-notch paving services for over 20 years, so you can trust us to get the job done right. We use only the highest quality materials and tools to ensure our projects are completed quickly and efficiently. No matter what size or shape of driveway you need paved, we have the skills and expertise to meet your needs.
With our commitment to excellence, you can rest assured that your driveway will be expertly installed and look great for many years to come. So don't wait any longer – contact R. Stanley's Paving today and let us help you turn your dream driveway into a reality!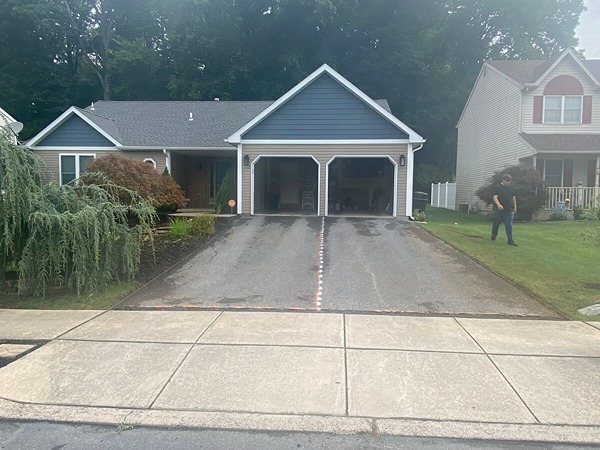 How Can We Help?
We at R. Stanley's Paving are dedicated to providing our customers with dependable, reliable and quality driveway paving services that they can rely on. We understand the importance of having a safe and attractive paved driveway, so we offer top-notch asphalt installation and repair services that will help you get the most out of your investment. With years of experience in the asphalt contracting business, you can be sure that our team of experts will provide you with the best possible solution for your needs.
Improved Aesthetics with Driveway Paving
When you think of driveway paving, aesthetics are likely the first thing that come to mind. Your driveway can be a reflection of your home and its surrounding landscaping, so it's important to ensure that it looks great. With driveway paving, you'll get an improved look for your property that will last for years to come.
You'll also benefit from increased curb appeal — which could even add value to your home if you decide to put it on the market someday. By installing new pavement, you can make sure your house stands out in the neighborhood. Plus, you won't have to worry about any unsightly cracks or potholes marring the appearance of your driveway.
Driveway paving has plenty of practical advantages too, such as reducing dust, mud, and weeds; improving drainage; increasing safety; and preventing erosion. But when it comes to aesthetics, there's no doubt that paving is one of the best investments you can make for your home. Here are some of the benefits:
Enhanced color and texture options
More uniform surfaces
Smooth and level surfaces
Reduced maintenance requirements
Why Choose Us?
At R. Stanley's Paving, we believe in providing quality paving services that are reliable and dependable. With 25 years of experience, you can trust us to get the job done right! Our professional licensed contractors use only US-made materials for all our asphalt projects. We offer free quotes so you know exactly what to expect before work begins. Plus, with our satisfaction guarantee, you'll be sure to love the results. So if you're looking for driveway paving services, look no further than R. Stanley's Paving!
Why is Driveway Paving in Leesport Important?
Having a well-paved driveway can make all the difference in your home's exterior appearance. Not only does it add to the aesthetic of your property, but it also provides safety and convenience for you and your family. When it comes to driveway paving, there are several benefits that come along with it:
Improved Safety – A properly paved driveway decreases the risk of slipping or falling on loose gravel and other debris, making it safer for you and your guests.
Increased Property Value – Investing in driveway paving can increase the value of your home, as it makes it more attractive to potential buyers.
Durability – A professional paving job will last longer than DIY attempts, saving you money in the long run.
Easier Maintenance – With a properly paved driveway, maintenance such as snow shoveling and leaf removal become much easier tasks.
At R. Stanley's Paving, we understand the importance of having a professionally paved driveway, which is why we offer free quotes to our customers so they can get an accurate estimate of what their project will cost.
Why Is Driveway Paving Right for Your Needs?
Are you looking for a way to boost your property's curb appeal and make it more attractive to visitors or potential buyers? If so, driveway paving may be the perfect solution!
At R. Stanley's Paving, we specialize in providing high-quality, long-lasting driveway paving services that are designed to enhance the look of your exterior space. Our experienced team can help you create a unique and beautiful design that will last for years to come. We understand how important it is to have an aesthetically pleasing outdoor area, which is why our services are tailored to meet your needs.
Plus, with our reliable workmanship and superior materials, you can trust that your driveway will remain durable and functional for many years to come. Whether you need a small patchwork repair or a complete transformation, our team is here to provide you with the best possible results.
Frequently Asked Questions
What kind of material do you use for driveway paving?
We use asphalt for driveway paving.
How long does it take to pave a driveway?
Do you guarantee your work?
Absolutely! We guarantee your satisfaction with our work.
What areas do you serve?
We are based in Leesport, PA, but we serve the surrounding areas as well.
How much does it cost to pave a driveway?
The cost of each project depends on the size and complexity of the job. We provide free quotes, so
contact us
for more information.