The Best Reading Paving Contractor: Asphalt Commercial Paving
The task of choosing the best asphalt paving contractor can be a challenging one. It is important to select a qualified and experienced contractor who can provide quality services. This article will provide some tips and considerations to help make the selection process easier by providing advice on what to look for in an asphalt paving company.
When selecting an asphalt paving contractor, it is important to research the background of the contractor and read reviews from previous customers.
One should also inquire about the experience of the contractor, as well as their certifications, such as any specializations or additional training they may have received.
Additionally, it is important that the contractor has liability insurance and workers' compensation coverage in place.
Finally, one should obtain several estimates from different contractors before making a decision.
Researching The Contractor
When selecting a residential and commercial asphalt paving contractor in Reading PA, research is key. Look into the company's background and references. Ask for recommendations from friends, family, or colleagues who recently had their driveway or parking lot paved. Check online reviews on Google, Facebook, or Yelp.
It can also be beneficial to check online reviews of the contractor's work and past projects. Additionally, it is wise to contact local government offices in your area to see if they are familiar with the contractor and can provide any information on their performance.
The next step in choosing an asphalt paving contractor is to inquire about their experience. Ask how long they have been in business and what types of projects they specialize in. You should also determine if they are certified or licensed by a professional organization, as this will ensure that they adhere to industry standards and safety protocols.
Furthermore, ask what materials they use and whether they are able to provide a warranty on their workmanship. It may also be useful to verify the contractor's insurance coverage before hiring them for the job. Ensure that you receive copies of all applicable insurance certificates so you can be confident that you will not be held liable for any damages or injuries that occur during the project.
Additionally, request proof of worker's compensation insurance as this protects employees from being held responsible for any accidents that take place onsite. Transitioning into inquiring about experience will help ensure that the asphalt paving project goes smoothly and meets expectations.
Inquiring About Experience
1. Asphalt paving contractors should have a minimum of two years experience and a significant number of past projects to be considered for hire.
2. Client testimonials should be read carefully to ensure that the contractor is reliable and able to deliver quality results.
3. Licensing and insurance are essential for any paving contractor and should be verified to ensure legal compliance.
4. It is also advisable to research the contractor's past record and accomplishments to ensure that the contractor is well-qualified for the job.
5. The contractor should be able to provide proof of liability and property damage insurance to protect the client from any potential risks.
6. Finally, it is recommended to inquire about the contractor's experience in asphalt paving and consider the cost of materials, labor, and equipment rental.
Number Of Years In Business
It is important to inquire about the experience of a potential asphalt paving contractor.
It is essential to consider the number of years a contractor has been in business when evaluating their suitability for a project.
This indicates how much expertise and knowledge they have accumulated over time, and how well established their services are.
An experienced contractor will be better able to plan and execute the work required, based on their past experiences.
Familiarity with local building codes, regulations, and safety standards is also an advantage that comes from having many years of experience in the field.
Furthermore, an asphalt paving company with longevity demonstrates its commitment to customer satisfaction as it seeks long-term relationships with clients.
Companies that have been in business for a number of years should, therefore, be preferred over those who have only recently entered the industry.
As such, customers can rest assured they will receive high quality services from a reliable provider when selecting an asphalt paving contractor with substantial experience in the field.
Client Testimonials
Client testimonials are another essential source of information when considering the experience of an asphalt paving contractor. Reviews and ratings can provide insight into the quality of services provided by a company, as well as their commitment to customer satisfaction. Reading through client feedback allows potential customers to gain a better understanding of how a contractor performs, and if they are likely to meet their expectations.
Furthermore, reviews allow customers to compare various contractors in order to select the one that best suits their needs. Asphalt paving companies should also be able to provide contact information for past clients so that potential customers may ask them directly about their experiences with the contractor.
By taking into account client testimonials, potential customers can make an informed decision before hiring an asphalt paving contractor. This will ensure the project is completed properly and on time without any unexpected issues or delays. Additionally, it will help guarantee that the service received is up to par with industry standards and exceeds customer expectations.
Taking all of these factors into consideration allows for a smoother process from beginning to end for both parties involved. Hiring an experienced asphalt paving contractor is critical for successful completion of any project. Thus, researching an appropriate candidate should not be taken lightly and requires careful due diligence on behalf of the customer. Client testimonials can play a key role in this process and should always be considered when evaluating potential contractors for a job.
Licensing And Insurance
Licensing and insurance are essential aspects to consider when selecting an asphalt paving contractor. Licensed contractors are those that have fulfilled the necessary requirements set by local governing bodies and possess the required qualifications to perform the job safely and accurately. Additionally, it is important that the contractor has adequate insurance coverage in case of any unexpected damages or liabilities during a project.
Potential customers should verify that both licensing and insurance paperwork is up to date before hiring a contractor. It is also important to confirm that all subcontractors used by a particular contractor are licensed and insured as well. With this information, customers can be certain they are working with a reliable company that adheres to local regulations and has the resources to manage risk effectively.
Customers should also check for customer complaints or reports of non-compliance with licensing or insurance requirements on any potential contractors before signing an agreement. When researching an asphalt paving contractor, customers should thoroughly review their licensing and insurance papers in order to make sure they are properly qualified and covered for the job.
This will provide assurance that the project will be completed in accordance with industry standards without any unexpected complications or delays. By confirming these requirements beforehand, customers can rest assured they have hired a reputable company with experience handling asphalt paving projects successfully.
Verifying Certifications
Verifying Certifications of an asphalt paving contractor is essential to ensure the quality of work. It is important to check that the contractor has a valid license from their state or local government. This ensures that they have met minimum standards for safety and technical competency in their field.
Furthermore, inquiring about certifications from industry organizations can provide additional assurance. These certifications typically involve additional requirements such as completing continuing education courses, or adhering to certain standards of practice. Additionally, having certifications demonstrates a contractor's commitment to staying up-to-date with advancements in technology and methods within their field, further ensuring the quality of their work.
To make a well informed decision on selecting the best asphalt paving company, it is imperative to verify all relevant certifications held by potential contractors.
Moving forward, checking insurance coverage is another key aspect of selecting an asphalt paving contractor.
Checking Insurance Coverage
Irony aside, it's an unfortunate reality that not all asphalt paving contractors will have the same level of insurance coverage. After all, no one wants to find themselves liable for any potential damages or injuries on the job site.
However, as a responsible consumer, it is important to verify and check that the contractor you are considering has sufficient insurance coverage. The insurance must include liability and property damage, with a minimum of $1 million in coverage.
It should also cover workers' compensation insurance so that their employees can receive medical treatment if they become injured while working on your project. Additionally, you may want to ask if the contractor has additional policies such as an auto policy for any trucks or equipment used during the work.
Doing your due diligence and verifying that the asphalt paving contractor you choose is properly insured will help ensure that your project runs smoothly and without incident. Going forward, it may be wise to get multiple estimates from different contractors before making a decision. This way, you can compare prices as well as their respective levels of insurance coverage before selecting a provider for your paving needs.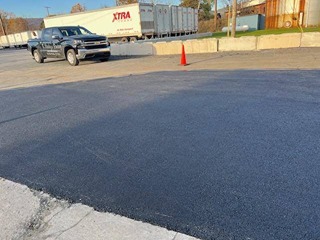 Getting Multiple Estimates
When it comes to asphalt paving, it is important to get multiple estimates. Doing so will help you gauge the market and make sure you are getting the best deal.
Before you decide on a contractor, here are some tips:
1. Ask for references from past customers to ensure that past work was satisfactory.
2. Make sure that any potential contractors are licensed and insured for your protection.
3. Request proof of materials used for your project, such as asphalt mix designs or roller reports.
These steps can help ensure that you choose an asphalt paving contractor with a history of providing excellent service and high-quality materials. By researching contractors in advance and getting multiple estimates, you can feel confident in your decision and have peace of mind when investing in your project.
Conclusion
Asphalt paving is an important part of any property's landscape, but choosing the right contractor can be a difficult task.
It is important to consider the type of materials used, how long the project takes, emergency services availability, additional costs, and guarantees or warranties on the work.
According to a recent survey conducted by Homeowner Insights, nearly 83% of homeowners said they would choose an asphalt paving contractor based on recommendations from friends or family.
Therefore, it is important to do your research and ask for references before selecting a contractor.
Additionally, make sure that you read all contracts carefully and understand what you are paying for before signing any documents.
With these tips in mind, you should be able to find a trustworthy and reliable asphalt paving contractor for your project.
Frequently Asked Questions
What Type Of Paving Materials Does The Contractor Typically Use?
Asphalt paving contractors typically use asphalt, concrete, and brick for their projects.
Asphalt is the most popular choice in paving materials due to its durability, affordability, and low maintenance requirements.
It can also be applied over existing concrete or other surfaces for a quick, cost-effective solution to many paving projects.
Concrete and brick are also great options for more specialized applications such as driveways or pathways in high traffic areas.
Each type of material has its own benefits and drawbacks, so it's important to consider what kind of project you need done before selecting a contractor.
How Long Does The Paving Process Usually Take?
The paving process typically takes just a few days, depending on the size and complexity of your project.
It's like a well-oiled machine, with experienced asphalt contractors working together in perfect harmony to create a smooth, safe surface for you to enjoy.
From start to finish, our team is dedicated to delivering quality work quickly and efficiently.
We'll use the latest technology and techniques to ensure that your pavement lasts for years to come.
Is The Contractor Available For Emergency Paving Services?
Asphalt paving contractors should be able to provide emergency services as part of their contract.
This is an important consideration when hiring a contractor, as unexpected weather conditions or other circumstances can require immediate attention and repairs to the pavement.
It is important to note that emergency services may incur additional fees and that the contractor should be able to provide an estimate for those costs prior to any repair work being done.
Are There Any Additional Costs Associated With The Project?
When considering a paving project, it is important to consider any additional costs associated with the project.
This may include costs for materials, tools and equipment, labor, fees, or permits that are necessary to complete the job.
It is important to ask the contractor what other costs might be involved in the project before signing a contract.
In addition, it is beneficial to ask whether there will be any hidden fees or taxes associated with the work.
Understanding all of these costs can help ensure that you receive an accurate estimate of the total cost of your paving project up front.
Are There Any Guarantees Or Warranties On The Work Performed?
Asphalt paving contractors are typically able to offer guarantees and warranties on their work. Depending on the company, these may be limited or comprehensive, covering a variety of issues that may arise with the installation or maintenance of your pavement.
Make sure to ask about any applicable guarantees or warranties before signing a contract with a contractor. This will ensure that you have appropriate protection in case there are any problems with the job down the line.