Commercial Paving in Wyomissing, PA | R. Stanley's Paving
R. Stanley's Paving is a professional asphalt contractor in Wyomissing, PA with over 25 years of experience. Our team of licensed contractors use only the highest quality materials to ensure your project is completed with the utmost care and attention to detail. We offer free quotes and are committed to providing exceptional customer service and satisfaction guaranteed. When you choose R. Stanley's Paving for your commercial paving needs, you can trust that our reliable, professional, and quality services will leave you completely satisfied.
– 25 Years of Expertise: Trusted Quality
– Professional Licensed Contractors: Experienced Professionals
– 100% US Based: Proudly Local
– Free Quotes: Accurate Estimates
– Satisfaction Guaranteed: Quality Assured
Pave the way to success – Get your free quote from R. Stanley's Paving today!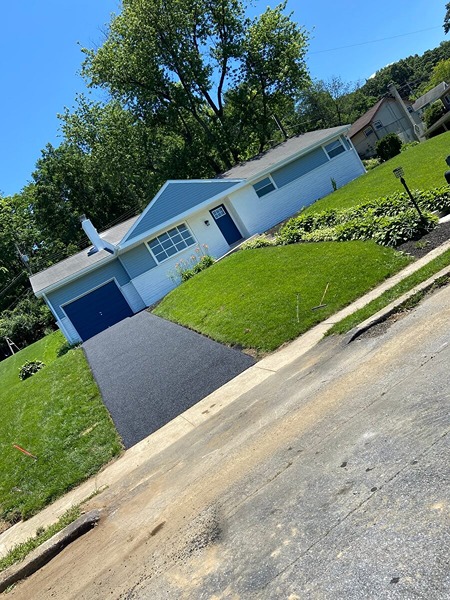 How Can We Help?
At R. Stanley's Paving, we're proud to provide reliable and professional commercial paving services for our customers. With decades of experience in the industry, we guarantee quality results that will stand up to the test of time. We use only the best materials and the most advanced techniques, ensuring a superior finished product. Our team is always available to answer questions and concerns, so you can rest assured that your project is in good hands with us!
Why Should You Choose R. Stanley's Paving
We at R. Stanley's Paving have been providing excellent commercial paving services to customers in Wyomissing, PA for over 25 years. We are experienced professionals with a commitment to quality and customer satisfaction. Our team of licensed contractors work diligently to ensure that our clients get the best results possible. With us, you can rest assured that you will be getting top-notch service from a reliable and trustworthy company. Plus, we offer free quotes so you know exactly what to expect before any work is done. So if you're looking for professional commercial paving services, choose R. Stanley's Paving!
Hire R. Stanley's Paving for Professional Commercial Paving in Wyomissing, PA
Are you looking for a reliable and professional commercial paving contractor in the Wyomissing, PA area? Look no further than R. Stanley's Paving! Our experienced and licensed contractors have been providing top-notch asphalt and concrete services to local businesses for years. We strive to ensure that all of our projects are completed with the highest level of quality while adhering to safety standards.
Our core value is professionalism and we take great pride in delivering excellence in every job we do. Here's what sets us apart:
– Experienced Licensing Contractors
– Commitment to Quality & Safety
– Flexible Scheduling Options
Road Maintenance for Commercial Paving
When you're in charge of commercial paving, it's essential to keep up with regular road maintenance. Without routine checks and repairs, your roads can quickly become unsafe or even unusable. That's why you need a reliable team that knows how to identify potential problems before they arise.
We understand the importance of keeping your roads well-maintained and know exactly what needs to be done for upkeep. We'll inspect your roadways and give you an honest assessment on any necessary repairs. If we find anything that needs attention, we'll fix it right away so you don't have to worry about it later. Plus, our experienced professionals use only high quality materials to ensure lasting results.
Our team is also available to provide additional services like sealcoating and striping. These are great ways to extend the life of your pavement and protect against premature wear and tear. With our help, you can rest assured knowing that your commercial paving is always in top condition.
Why Is Commercial Paving So Important?
At R. Stanley's Paving, we understand the importance of commercial paving and why it should be taken seriously. Not only does good-quality asphalt provide a safe surface for pedestrians and vehicles, but it also enhances the aesthetics of your business property. With 25 years of experience in the industry, we have seen firsthand how important proper paving is to any business.
We use only high-grade materials when laying down our durable and reliable asphalt surfaces, ensuring that you get the best possible results. Our team of experienced professionals are dedicated to providing quality workmanship, so you can rest assured that your pavement will last for many years to come. We take great pride in being able to offer you top-notch services that meet all of your needs.
Get Durable Paving Solutions for Your Business
We know you need a reliable, safe surface for your business. That's why R. Stanley's Paving offers commercial paving services designed to provide high-quality and durable solutions for your company. Our experienced team of professionals will ensure that your property is safe for employees and customers by providing a level surface that minimizes the risk of trips, slips, and falls.
When you choose us, you can be sure that we'll take care of all the details. We use quality materials, employ the most advanced technology, and follow strict safety protocols to deliver superior results. Plus, our commitment to customer satisfaction means we'll work with you until you're completely happy with the outcome. With R. Stanley's Paving, you get the peace of mind knowing that you have an expert on your side.
Frequently Asked Questions
What kind of commercial paving services do you offer?
We offer a variety of services, including asphalt paving, seal coating, line striping, and patching.
How long has your company been providing commercial paving services?
We've been in business for over 25 years, providing top-notch asphalt paving services to the Wyomissing, PA area.
Are your contractors licensed and insured?
Yes, all of our contractors are fully licensed and insured.
What makes your company stand out?
We pride ourselves on providing reliable and professional services with a 100% US based crew. We guarantee customer satisfaction with our work.
Do you provide free quotes?
Yes, we provide free quotes to all of our potential customers.