Quality Asphalt Patch Work Services in Leesport
R. Stanley's Paving is a reliable and professional asphalt contractor located in Leesport, PA with 25 years of experience. Our licensed contractors provide 100% US based Patch Work in Leesport that are always of the highest quality. We offer free quotes and guarantee satisfaction on all our projects. Contact us today for your project needs!
Experience the Reliability and Professionalism of R. Stanley's Paving – Quality Work Guaranteed. Call Now for a Free Quote!
How Can We Help?
At R. Stanley's Paving, we understand that asphalt paving and patch work can be a hassle for our customers. That's why we provide reliable and professional services to make the process as seamless as possible. We take pride in offering quality services so you can rest assured knowing your patch work is done correctly. We're here to help with all of your asphalt needs!
Quality Patch Work with R. Stanley's Paving in Leesport, PA!
If you're looking for a reliable asphalt contractor who takes pride in their work and is dedicated to providing quality patch work, R. Stanley's Paving in Leesport, PA is the perfect choice for all your needs. We guarantee satisfaction on every job we do, ensuring that our customers are always happy with the results of our work. Our team is experienced and knowledgeable when it comes to asphalt paving, so you can trust us to get the job done right. From driveway repairs to parking lot repaving, we have the skills and resources necessary to handle any project. Plus, our competitive prices make us an even better choice than the rest. Let us take care of all your patch work needs today!
Why Should You Choose R. Stanley's Paving for Your Patchwork Needs?
When it comes to patch work, you want to make sure that the job is done right. That's why we recommend R. Stanley's Paving – they provide a quick and cost-effective solution to address any small or large damages on your property, preventing further deterioration and ensuring safety.
R. Stanley's Paving immediately addresses any damage, so it doesn't get worse and become more expensive to fix down the line. And since they specialize in patch work services, you can be confident that the job will be done correctly and with attention to detail. So if you need some patchwork done, trust the professionals at R. Stanley's Paving to do it right!
Patch Work to Repair Potholes
When it comes to patch work, repairing potholes is a job that requires specific skills and knowledge. I'm here to help you tackle this task in the most efficient way. Asphalt repair is no easy feat but with the right tools and technique, you can make sure the job gets done correctly.
First and foremost, you'll need a good sealer for pothole repairs. This will ensure your asphalt is properly sealed so that water won't be able to seep into the cracks and cause further damage. A cold mix asphalt patching compound is usually recommended as it's quick drying and can cover large areas easily. Once you have the sealer ready, you'll want to get rid of any loose debris or vegetation around the pothole. It's important to do this before applying the sealer so that the patch adheres better.
The next step is to fill the pothole. Depending on how deep it is, you may need to use multiple layers of patch material. Make sure each layer is slightly larger than the one below it so that it covers the entire surface area evenly. You also want to compress each layer using a tamper or roller to ensure the patch sticks well. Finally, you should apply a sealant over the patched area and allow it to cure completely.
Patch work can be time consuming but taking the necessary steps to repair potholes is essential for ensuring your asphalt stays in top condition. Doing the job yourself can save you money and give you peace of mind that the repair was done properly. So if you're looking for a reliable and cost effective solution, patch work is the best way to go.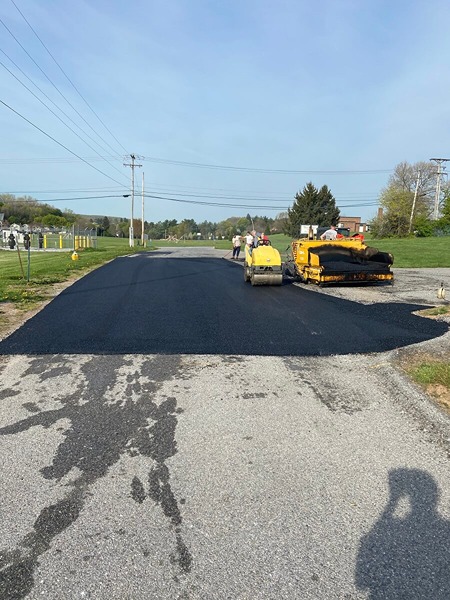 Why is Patch Work Important for Asphalt Paving?
Patch work is an essential part of asphalt maintenance and repair. It not only improves the overall look of your driveway, parking lot or other paved surface, but also helps to prevent further damage from occurring. When cracks begin to appear in asphalt surfaces, patch work can help fill them in and keep water out, which can lead to more costly repairs down the line if left unaddressed. Patch work also provides a smooth finish for a cleaner, more aesthetically pleasing look.
At R. Stanley's Paving, we understand how important it is to maintain and repair asphalt surfaces with quality patch work. Our experienced team of professionals will provide you with a free quote for any job, big or small, so that you know exactly what the cost of repair and maintenance will be. We are committed to delivering top-notch patch work services at competitive prices – giving you peace of mind knowing that your investment is protected.
Frequently Asked Questions
What kind of patch work do you offer?
We offer a variety of
patch work
services, from small driveway or parking lot repairs to larger scale commercial projects.
How long does it take to complete patch work?
It depends on the size of the project, but typically it can take anywhere from a few hours to several days.
Does patch work require a lot of maintenance?
No,
patch work
should not require a lot of maintenance if it's done correctly. We take the time to ensure that all repairs are properly done and that they last.
Are there any guarantees with patch work?
Yes! We offer a satisfaction guarantee on all of our
patch work
services, so you can rest assured that we will do the job right the first time.
What kind of materials do you use for patch work?
We only use the highest quality asphalt materials for all of our
patch work
projects. We make sure that everything is up to code and will last for years to come.