Professional Patch Work in Blandon, PA
R. Stanley's Paving is a professional asphalt contractor located in Blandon, PA with 25 years of experience. We offer reliable and quality patch work services that are 100% US based. Our licensed contractors guarantee satisfaction and provide free quotes for all projects. Contact us today to get started on your paving project!
• 25 years of expertise – Professional experience
• Licensed contractors – Trusted professionals
• 100% US-based – Local service
• Free quotes – Save time & money
• Satisfaction guaranteed – Peace of mind
Pave the Way to Lasting Quality – Trust R. Stanley's Paving for Your Asphalt Needs!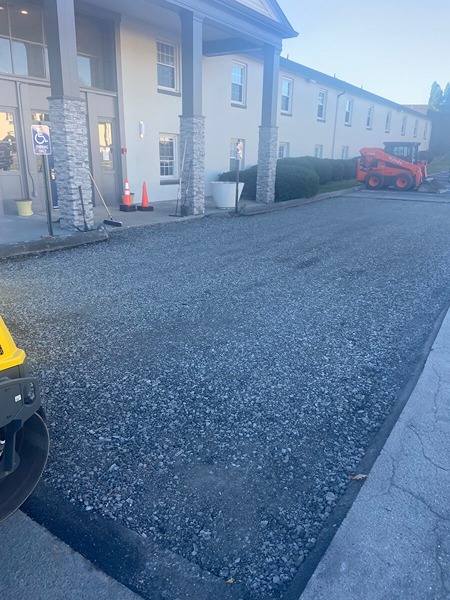 How Can We Help?
At R. Stanley's Paving, we provide reliable and quality patch work services that our customers can depend on. Our professional team of asphalt contractors are highly experienced in completing even the most difficult patch jobs quickly and accurately. We understand how important it is to have a smooth surface for your driveway or parking lot and will strive to make sure the job is done right. Contact us today to see how we can help you with all your patch work needs!
Why Should You Choose R. Stanley's Paving
At R. Stanley's Paving, we have 25 years of experience in asphalt contracting and our professional licensed contractors use only 100% US-based materials to ensure the highest quality results for your patch work! We offer free quotes so you can make an informed decision about which contractor is right for you. Plus, all of our services are satisfaction guaranteed, so you know you're getting reliable, quality results every time. Let us help you with your patch work needs today!
Get Reliable Patch Work in Blandon Done with R. Stanley's Paving, PA
We know how important it is to have reliable service when it comes to patch work for your asphalt needs. That's why you should trust the professionals at R. Stanley's Paving in Blandon, PA. With years of experience and a dedication to quality, they're sure to provide you with the results that you need and deserve.
At R. Stanley's Paving, they understand that time and money are valuable resources. So they strive to complete every project on time and within budget. Plus, their team of licensed contractors will ensure that all work is done up to code. You'll be able to rest easy knowing that you've chosen the right people for the job.
Patch Work: Repairing Potholes
Patching up potholes is a key part of patch work. Whether it's on roads, driveways or parking lots, potholes can cause a lot of damage and hassle if left unchecked. But don't worry – there are plenty of ways to repair them!
One way to fix potholes is by filling them in with cold asphalt mix. This method works best for small-to-medium sized holes. All you need to do is shovel the mix into the hole and compact it down before smoothing over any uneven surfaces. Cold asphalt mix hardens quickly so you should be able to use the area again soon after.
For bigger potholes, hot asphalt may be better suited as it takes longer to cool and will provide a more lasting solution. To use this method, heat up the asphalt until it melts and then fill the pothole with it. Again, make sure to tamp the material down and smooth out the surface afterwards. However, keep in mind that hot asphalt needs time to set completely so avoid using the area until it has cooled off.
No matter which type of asphalt you choose, repairing potholes is an important step in maintaining your property. So take some time to assess where potholes are located and start fixing them up!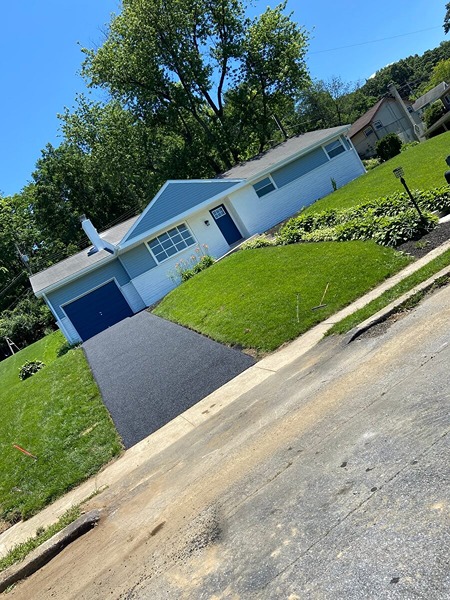 The Importance of Professional Patch Work in Blandon
We all know how important it is to keep our asphalt surfaces maintained. With regular patch work, you can ensure that your property looks its best and remains safe for visitors and employees alike. Not only does professional patch work prevent the formation of large cracks and potholes, but it also extends the life of your asphalt surface overall. Here are just a few reasons why patch work should be done by experts:
– Preventative maintenance: Regularly scheduled patch work helps maintain the integrity of an asphalt surface, preventing costly repairs down the line.
– Aesthetic appeal: Professionally patched areas blend seamlessly into existing surfaces, leaving a uniform look that adds value to any property.
– Prolonged lifespan: Properly patched asphalt will last longer than unpatched surfaces due to the added protection against wear and tear.
– Cost savings: By investing in regular patch work, you can save money in the long run on larger repair bills.
– Safety benefits: Cracks and holes in asphalt can lead to dangerous conditions, so patching them up promptly is essential for keeping everyone safe.
Get the Patchwork You Need for Your Property
Don't let damaged areas of your property get worse and put your safety at risk. Our patchwork services provide a quick and cost-effective solution to address any small or large damages with these great benefits:
1. Prevents further damage: We immediately address any damages so they don't worsen and cause bigger problems down the road that can be more expensive to fix.
2. Enhances safety: By quickly acting on any damage present in your property, we help ensure its safety and keep it free from hazards.
3. Cost-effective solutions: We offer affordable options to make sure you receive the best service possible without breaking your budget.
4. Quality materials: To guarantee the long-term effectiveness of our patchwork services, we only use high-quality materials that last longer.
At R. Stanley's Paving, we specialize in providing patchwork services for properties of all sizes. So if you're looking for an efficient and reliable way to prevent further deterioration of your property, contact us today!
Frequently Asked Questions
What is patch repair?
Patch repair is a way to repair asphalt surfaces with small cracks or holes. It involves filling in the cracks or holes with an asphalt mix that matches the existing surface.
How do we know if patch repair is right for us?
We can provide an assessment of your asphalt surface and determine if patch repair is the best option.
What type of asphalt mix do you use?
We use a high-quality asphalt mix that matches the existing surface, ensuring a uniform and professional look.
How long does patch repair take?
Generally, patch repair can be completed in a few hours. However, the time may vary depending on the size of the area being repaired.
Is patch repair cost-effective?
Yes! Patch repair is a cost-effective solution for small asphalt repairs. It can help you save money in the long run by preventing the need for more costly repairs in the future.