Reliable Patch Work in Laureldale
R. Stanley's Paving is a professional asphalt contractor located in Laureldale, PA with 25 years of experience and licensed contractors. We offer patch work in Laureldale for all your paving needs with 100% US-based materials. Our reliable professionals provide quality work that is guaranteed to satisfy. Get your free quote today and see why R. Stanley's Paving has been the go-to choice for patch work for over two decades!
Get It Done Right the First Time with R. Stanley's Paving! Contact Us Today for A Free Quote and Satisfaction Guaranteed.
How Can We Help?
We at R. Stanley's Paving know how important it is to keep your asphalt in top shape, and patch work is a great way to do that. We have the experience and skill necessary to get the job done quickly and efficiently, with high quality results. Our reliability means you can trust us to be there when we say we will, and our commitment to excellence ensures that the patch work we complete for you will last for years to come.
Stop Searching for Reliable Patch Work – Hire R. Stanley's Paving in Laureldale, PA!
At R. Stanley's Paving, we understand the importance of reliability when it comes to patch work. Our team of experienced asphalt contractors is dedicated to providing you with top-notch service that you can count on. We guarantee your satisfaction with our quality craftsmanship and attention to detail for all types of projects. Whether it is a residential driveway or a commercial parking lot, we have the skills and tools necessary to get the job done right the first time. With fair pricing and flexible scheduling options, let us show you why we are the paving professionals of choice in Laureldale, PA.
Why Choose
R. Stanley's Paving for Your Patch Work Needs?
At R. Stanley's Paving, we specialize in patchwork services to help protect your property from further damage and deterioration. Our quick and cost-effective solution is designed to address any small or large damages that may occur so you can rest assured knowing your property is safe and secure.
With our patch work services, you don't have to worry about a minor problem turning into a major one. The repairs will be done quickly and efficiently, helping to prevent any more damage from occurring and saving you money in the long run. Plus, you'll get peace of mind knowing that your property is safe and secure. So when it comes to protecting your property from further damage, trust us at R. Stanley's Paving – we've got you covered!
Repairing Potholes with Patch Work
Patching potholes can be a tricky task, but when done properly it can be an effective way to extend the life of your asphalt surface. It's important to know that patch work isn't just about filling in the hole – careful preparation is key for a successful repair job. I'm going to walk you through the steps involved in fixing up those pesky potholes!
First, we need to clean the area around the pothole so there's no debris or dirt getting into the repair. It's best to use a broom or leaf blower to get rid of any loose material. Once the area is clear and dry, it's time to fill the pothole with a cold-mix asphalt patching compound. You want to make sure the hole is filled as much as possible, then compact it down with a tamper until the patch is level with the surrounding pavement.
Finally, once the patch has been leveled out and the excess material removed, you'll want to seal the patch with a liquid asphalt coating. This will help keep the patch from cracking and protect it from water damage. The last step is applying a top coat of asphalt sealer to complete the repair process. If all goes according to plan, you should have a fully repaired pothole in no time!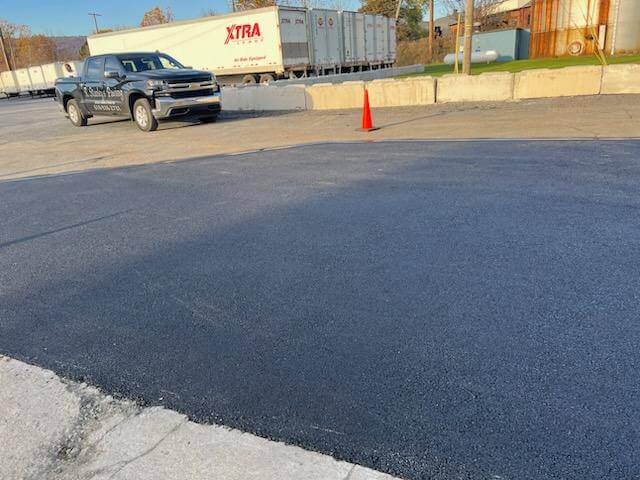 Patching Up Your Asphalt: Why It's Essential
When it comes to asphalt paving, patch work is an important part of the process. Without regular inspection and repair of any cracks or potholes in your pavement, you can quickly find yourself with a lot of costly damage down the line. Not only does this kind of neglect lead to further deterioration of your asphalt, but it can also create hazardous conditions for pedestrians and drivers alike.
At R. Stanley's Paving, we understand how essential patch work is for protecting your pavement from long-term wear and tear. Our experienced team is based near Laureldale, PA, and is ready to help you address any issues before they become major problems. We'll inspect your driveway, parking lot, or other paved area and make sure that everything is up to code. Plus, our services are 100% US based, so you know that when you hire us, you're supporting American jobs. Get in touch today if your asphalt needs some attention!
Frequently Asked Questions
What kinds of patch work do you provide?
We provide all kinds of patch work, from repairs to resurfacing.
How long does patch work take?
It depends on the project, but typically patch work takes a few days to complete.
What materials do you use for patch work?
We use only the highest quality asphalt materials for patch work.
Are you insured for patch work?
Yes, we are fully insured for all types of patch work.
Do you guarantee your patch work?
Yes, we guarantee all our patch work and stand behind it 100%.