Best Patch Repair in Blandon, PA
R. Stanley's Paving provides professional patch repair services in Blandon, PA with 25 years of experience and satisfaction guaranteed. Our licensed contractors are 100% US based and provide free quotes for all asphalt projects. We strive to be reliable, dependable, and professional while providing quality patch repair services that stand the test of time. Whether it's a small repair or an entire parking lot, R. Stanley's Paving has you covered! Contact us today for your free quote.
-25 years of trusted experience
-Licensed professionals
-100% US based
-Free quotes & estimates
-Satisfaction guaranteed
-Reliable, dependable service
Get a smooth, reliable, and dependable asphalt patch repair from R. Stanley's Paving. Professional licensed contractors, 100% US based and satisfaction guaranteed. Contact us today for your free quote!
How Can We Help?
At R. Stanley's Paving, we understand that patch repair can be a hassle for our customers. That's why we offer reliable and dependable patch repair services to get the job done quickly and professionally. Our experienced team is dedicated to providing quality workmanship with each and every project. We'll make sure your patch repairs are done right the first time, so you can have peace of mind knowing your asphalt will last for years to come.
Why Should You Choose R. Stanley's Paving
At R. Stanley's Paving, we provide patch repair services that are reliable, dependable and professional. With 25 years of experience in asphalt contractor services, our licensed contractors have the knowledge and expertise to get the job done right. We're 100% US based and offer free quotes along with a satisfaction guarantee. So if you're looking for quality patch repair services, look no further than R. Stanley's Paving.
Get Reliable Patch Repair in Blandon with R. Stanley's Paving, PA
When you're looking for reliable patch repair services in Blandon, PA, you can count on R. Stanley's Paving! With our experienced team of professionals and commitment to customer satisfaction, we guarantee that your needs will be met. Our range of services include:
– Professional assessment and planning of the patch repair job
– Quality asphalt materials used for the project
– Timely completion of the patch repair work
We understand how important it is for a patch repair job to be done correctly. That's why we make sure all projects are completed with expertise and attention to detail. We strive to provide quality results while being conscious of our customer's time and budget. So when you need reliable patch repair services, trust R. Stanley's Paving in Blandon, PA!
Patch Repair to Fix Potholes
Patch repair is a great way to fix potholes! It's quick, easy and cost-effective. If you're looking for a reliable solution to your patchy driveway or broken road, patch repair can get the job done. Here's what you need to know about fixing potholes with patch repair:
First of all, it involves filling small gaps in asphalt with material that adheres to the surrounding surface. This helps to create a more uniform look, as well as preventing further damage from occurring. Once the patch has been filled, it needs to be compressed using a roller. This will ensure that the patch is securely held in place and can withstand heavy traffic. Additionally, any cracks or crevices should be filled with an appropriate sealant to prevent water infiltration.
In addition to providing a secure fix, patch repair also provides long term benefits. The patches are designed to last for years before needing replacement or repairs. Furthermore, they offer added protection against weathering and wear and tear, making them ideal for roads and driveways. Plus, patch repair can help reduce damage caused by freeze/thaw cycles and other environmental conditions.
Overall, patch repair offers a great solution to fix potholes quickly and effectively. Here are some of its key advantages:
Easy to install and maintain
Durable and weather-resistant
Cost-efficient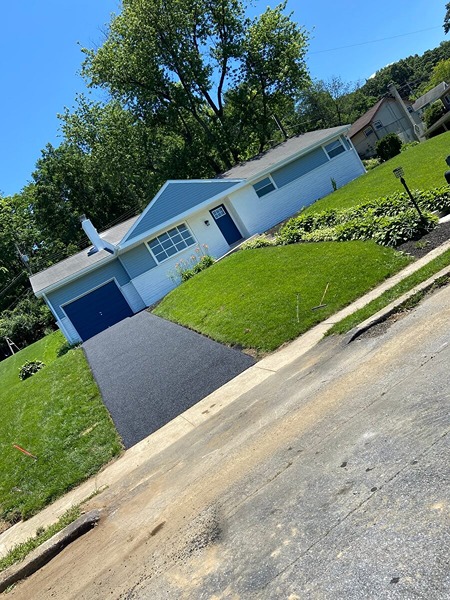 Keep Your Driveway in Top Shape with Patch Repair in Blandon
As homeowners, we understand the importance of maintaining our driveways. We want them to look great and last for years. That's why patch repair is so important. It can help fill any cracks or potholes that may have appeared over time, strengthening your driveway surface and improving its overall appearance. Here are a few reasons why you should consider patch repair:
1. Patch repair is cost-effective – compared to completely replacing asphalt, patch repair is much more affordable and gives you long-term protection against further damage.
2. Patch repair is efficient – it's a quick process that requires very little disruption to your daily routine.
3. Patch repair looks great – it improves the overall look of your driveway and helps it stand up better to weather conditions like rain, snow and ice.
At R. Stanley's Paving, we offer professional patch repair services in Blandon, PA. Our experienced team has been working in the paving industry since 1977, giving us the experience necessary to provide quality results. We use only the highest grade materials and specialize in asphalt repair and maintenance. Get in touch today to learn more about how we can help keep your driveway looking great.
Get Fast and Efficient Patch Repair Services with R. Stanley's Paving!
At R. Stanley's Paving, we offer a fast and efficient patch repair service to help you get your property back in top shape. Our experienced team of professionals can quickly identify any damaged areas on your property, providing a seamless and long-lasting solution that will keep your family safe:
1. We provide an accurate assessment of the damage so that you know exactly what needs to be done.
2. Our quick turnaround time means you won't have to wait weeks for the repairs to be completed.
3. Our patch repair services are designed to last, ensuring that you don't have to worry about further damages down the line.
Stop putting off those necessary repairs any longer – contact us today for a free quote and let us show you why our patch repair services are the right choice for your property!
Frequently Asked Questions
What is patch repair?
Patch repair is a way to repair asphalt surfaces with small cracks or holes. It involves filling in the cracks or holes with an asphalt mix that matches the existing surface.
How do we know if patch repair is right for us?
We can provide an assessment of your asphalt surface and determine if patch repair is the best option.
What type of asphalt mix do you use?
We use a high-quality asphalt mix that matches the existing surface, ensuring a uniform and professional look.
How long does patch repair take?
Generally, patch repair can be completed in a few hours. However, the time may vary depending on the size of the area being repaired.
Is patch repair cost-effective?
Yes! Patch repair is a cost-effective solution for small asphalt repairs. It can help you save money in the long run by preventing the need for more costly repairs in the future.