Reliable Asphalt Patch Work in Wyomissing, PA
R. Stanley's Paving is an asphalt contractor based in Wyomissing, PA with 25 years of experience and a team of professional, licensed contractors. We offer patch work for both residential and commercial applications that are 100% US-based and guaranteed to be satisfactory. Our core values of reliability, professionalism, and quality make us the top choice for all your patchwork needs. Get in touch today for a free quote on our patch work services!
-25 Years of Quality: Experienced, Reliable
-Licensed Professionals: Expert, Credible
-100% US Based: Local, Proud
-Free Quotes: Convenient, Affordable
-Satisfaction Guaranteed: Trustworthy, Assured
Get your paving project done right the first time with R. Stanley's Paving – Professional, Quality Results Guaranteed! Call now for a free quote!
How Can We Help?
We at R. Stanley's Paving can help customers with all their patch work needs. We're experienced asphalt contractors that are reliable, professional and always provide quality services. Our team will make sure your patch work is done properly and quickly, so you won't have to worry about it. We'll get the job done right the first time, so you don't have to call us back for more repairs.
Why Should You Choose R. Stanley's Paving
At R. Stanley's Paving, we have been providing quality asphalt services for 25 years. We understand the importance of reliable and professional service, so our contractors are licensed and all of our work is 100% US based. We also provide free quotes and guarantee your satisfaction with our patch work services. So if you're looking for a company that values quality and customer service, look no further than R. Stanley's Paving!
Get the Most Reliable Patch Work in Wyomissing R. Stanley's Paving, PA
Finding a reliable contractor for your patch work needs can be quite daunting. That's why you should trust R. Stanley's Paving – an experienced and licensed asphalt contractor located in Wyomissing, PA. We provide quality services that are backed by expertise and experience. Our team of professional contractors is dedicated to delivering outstanding results every time. Plus, our commitment to customer service means that you'll always have someone to answer any questions you may have. With us, you know you can count on top-notch patch work done right. So when you need reliable patch work, look no further than R. Stanley's Paving.
Patch Work: Repairing Potholes
Potholes are a real headache. They can cause damage to vehicles and create an inconvenience for drivers, pedestrians and cyclists alike. A great way to fix potholes is with patch work. It's a quick, effective and affordable solution that will make the roads safer in no time. I've been using patch work for years now, and it always does the trick.
When it comes to patch work, preparation is key. You need to clean out any debris from inside the pothole and then fill it with a mix of asphalt and gravel. This should be done gradually, as you don't want too much material at once. Once everything is level, leave the patch to settle and then use a tamper to compact it. The end result should look smooth and even.
Finally, you'll need to seal the edges of the patch with hot tar. This will help prevent water from seeping into the area, which would weaken the repair over time. If you're looking for a reliable and long-lasting patch job, this is essential.
To ensure your patch work projects turn out perfectly every time, here's a handy checklist:
Clean the pothole and remove all debris
Fill the hole with a mixture of asphalt and gravel
Compact and level off the surface
Seal the edges with hot tar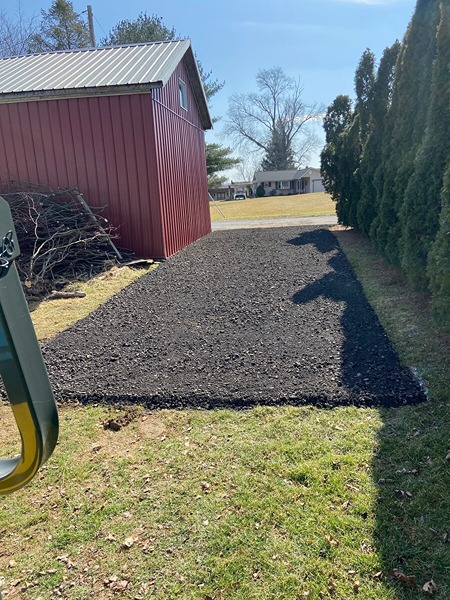 Keep Your Asphalt in Tip-Top Shape With Patch Work
As a homeowner or business owner, you know that asphalt is an investment. Whether it's your driveway, parking lot, or other paved surface, regular patch work helps to keep it looking its best and lasting longer. Proper maintenance of your asphalt ensures that you're not spending money on costly repairs further down the line.
At R. Stanley's Paving, we understand how important it is to maintain your asphalt surfaces with patch work. Our experienced team has been providing quality service for over 25 years, so you can trust us to get the job done right. We use top-of-the-line equipment and only the finest materials to guarantee that your patch work will last. So if you've noticed any cracks, potholes, or crumbling asphalt, let us help you take care of it before it becomes a bigger issue. Don't wait – give us a call today and get your asphalt back into shape!
Keep Your Property Safe with R. Stanley's Paving Patch Work Services
If you're looking for a quick and cost-effective way to address small or large damages, look no further than R. Stanley's Paving patch work services. Our team of experienced professionals can provide immediate relief to your property's deficiencies and prevent them from getting worse. Here are just some of the benefits of our patch work services:
Quick repairs: We will have your property back in great condition in no time.
Cost-effective solutions: Save money by addressing any problems before they get worse.
Durability: Our patchwork is designed to last and withstand any weather conditions.
Safety: Ensure that your property is safe from future damage and deterioration.
At R. Stanley's Paving, we understand how important it is to keep your property in top shape. That's why we take pride in providing quality patch work services to ensure the safety of your property. So don't wait any longer – contact us today to schedule an appointment!
Frequently Asked Questions
What is patch work?
Patch work is a type of
asphalt repair
that involves filling in potholes, cracks, and other small areas of damage.
How long does patch work take?
Patch work usually takes a day or two, depending on the size and complexity of the job.
Does patch work require special equipment?
Yes, patch work requires specialized equipment to ensure the job is done properly.
Is patch work permanent?
Yes, patch work is a permanent solution that can last up to 10 years if done correctly.
How much does patch work cost?
Costs for patch work vary depending on the size and scope of the job, but we provide free quotes so you can get an accurate estimate.