Quality Asphalt Patch Work Services in Fleetwood
R. Stanley's Paving is an asphalt contractor located in Fleetwood with 25 years of experience. We offer professional and quality patch work in Fleetwood with a satisfaction guarantee. Our licensed contractors are 100% US based and we provide free quotes for all of our services. With R. Stanley's Paving you can trust that you will receive dependable and reliable patch work for all of your asphalt needs. Contact us today for more information!
Pave the Way to a Better Future with R. Stanley's Paving. Call Now for a Free Quote!
How Can We Help?
We at R. Stanley's Paving are committed to providing our customers with dependable, professional, and quality Patch Work in Fleetwood. With over 30 years' experience, we have the skills and expertise necessary to ensure that your patch work is done right the first time. We use only the best quality materials and work with you to ensure that you get the results you need. We understand that patch work can be a stressful and time-consuming process, so let us take care of it for you. We guarantee you will be satisfied with the results.
Dependable Patch Work with R. Stanley's Paving in Fleetwood!
When it comes to asphalt patch work, you need a contractor you can trust. At R. Stanley's Paving in Fleetwood, we provide dependable services that you can count on. With over 20 years of experience in the business, our team of licensed contractors is committed to delivering the highest quality of service. Here's what you can expect when you work with us:
Fast and reliable turnaround times: We understand the importance of having your patch work done right and on time. That's why we guarantee a quick response to your needs and promise that your job will be completed as efficiently as possible.
Quality materials and craftsmanship: We only use the best materials available and our skilled team of professionals is dedicated to ensuring that each job is done right the first time.
Affordable pricing: We offer competitive prices that won't break the bank.
When you need dependable patch work, R. Stanley's Paving in Fleetwood is the team for the job!
Why Should You Choose R. Stanley's Paving for Your Patchwork Needs?
We understand the importance of keeping your property in top condition and that's why we offer our patchwork services. With our quick and cost-effective solution, you can address any small or large damages and prevent them from getting worse.
Our Patch Work in Fleetwood provide a fast and reliable solution that can save you time and money. We'll take care of all the necessary repairs, so you can have peace of mind knowing that your property is safe and secure. Plus, our team of highly-trained professionals is committed to providing excellent customer service and ensuring that the job is done right the first time. So, if you're looking for an effective and efficient way to repair any damages on your property, our patchwork services are the right choice for you.
Repairing Potholes with Professional Patch Work
When it comes to patch work, repairing potholes is one of the most important services. Potholes create an unsightly and potentially hazardous driving experience. If you need a professional to repair potholes, you can count on us.
We use state-of-the-art patch work techniques to quickly and effectively repair potholes. Our team of experts can manage any size pothole, from ones that are just starting to form to those that have been around for a while. We'll fill in the damaged area with a durable and long-lasting material that can withstand the changing weather conditions and traffic.
When it comes to patch work, we take pride in having the best tools and equipment to get the job done. Here's a list of the tools we use to repair potholes:
Patching Mixture
Tampers
Rakes
Shovels
Trust us to use our knowledge and experience to repair potholes effectively and efficiently. We'll make sure that your roads are safe and your potholes are gone.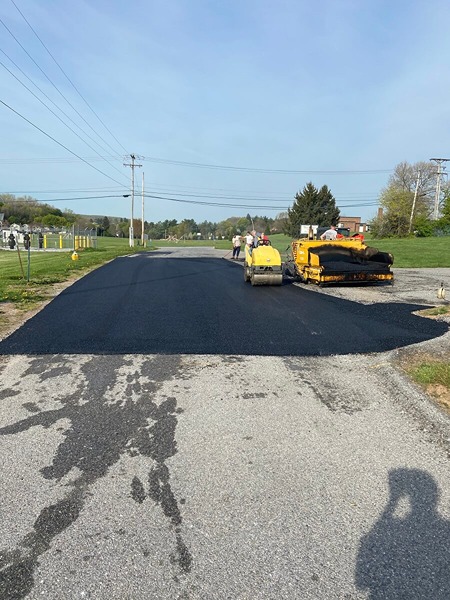 Why is Patch Work So Important?
At R. Stanley's Paving, we understand how important patch work is for maintaining a smooth and safe surface. Patch work is especially essential for asphalt, as it is a cost effective way to repair small sections of damaged pavement without having to replace the entire area. Patch work can also be used to address uneven surfaces, fill in potholes, and more. Here are some of the main benefits of patch work:
Cost effective: Patch work is a cost effective way to repair small sections of asphalt without having to replace the entire area.
Durable: Patch work is strong enough to last for years, making it a great long-term solution.
Quick: Patch work can be done quickly, so you don't have to wait long to repair your asphalt.
Customizable: Patch work can be customized to match the color and texture of your existing pavement.
Safe: By repairing uneven surfaces and potholes, patch work helps to create a smoother, safer surface.
At R. Stanley's Paving, we have the experience and expertise to provide quality patch work that will last for years. If you're looking for a reliable asphalt contractor in Fleetwood, R. Stanley's Paving is the perfect choice.
Frequently Asked Questions
What kind of patch work do you offer?
We offer a variety of
patch work
services, such as
patching
potholes, repairing cracks and filling depressions.
How long does patch work take?
It depends on the size and complexity of the job, but generally
patch work
can be completed in one day.
What materials do you use for patch work?
We use a combination of hot mix asphalt and cold patch asphalt to complete patch work.
Does patch work require special equipment?
Yes, we use specialized equipment for patch work, such as an asphalt milling machine and a paver.
Do you guarantee your patch work?
Yes, we guarantee all of our
patch work
and are committed to customer satisfaction.