Affordable Driveway Sealcoating Services in Reading
R. Stanley's Paving is a professional asphalt contractor based in Reading, PA with 25 years of experience providing dependable and high-quality services. We specialize in Driveway Sealcoating in Reading and offer free quotes to ensure customer satisfaction. Our team of licensed contractors are 100% US based and guarantee the highest level of quality for all our projects. Contact us today for more information on how we can help you protect your driveway from environmental damage.
Unbeatable Quality. Unrivaled Dependability. Choose R. Stanley's Paving for all your asphalt needs!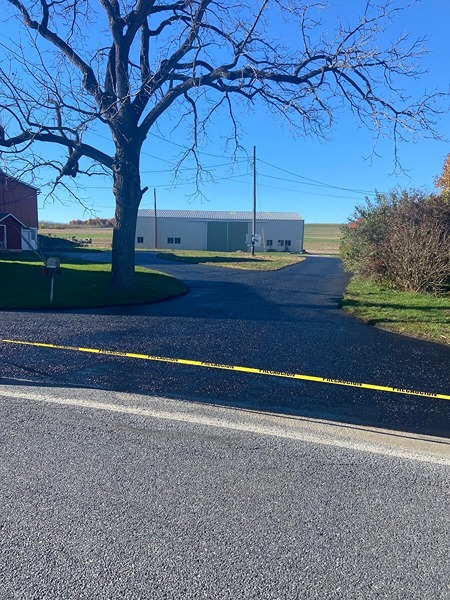 How Can We Help?
At R. Stanley's Paving, we understand how important it is to keep your driveway looking good and safe for you and your family. We provide quality sealcoating services that will extend the life of your driveway and protect against damage from snow, ice, and other elements. Our reliable team has years of experience in asphalt contracting and knows exactly how to apply the perfect amount of sealant to ensure maximum protection. We're proud to offer our customers dependable service and top-notch results every time!
Get Dependable Driveway Sealcoating from R. Stanley's Paving in Reading, PA!
When it comes to driveway sealcoating, you want a dependable contractor who will complete the job on time and within budget. That's why we recommend R. Stanley's Paving in Reading, PA. With 25 years of experience, they offer quality service that is reliable and will last for many years. Their team of experienced professionals use only top-of-the-line materials to ensure your driveway looks and works like new for years to come. Plus, their competitive rates make them a great choice for those looking for an affordable sealing solution. So if you're looking for professional sealcoating services in Reading, PA, trust R. Stanley's Paving to get the job done right.
Why Should You Choose R. Stanley's Paving for Your Driveway Sealcoating Needs?
Are you looking to protect your driveway from weathering, erosion, and cracking? With R. Stanley's Paving, you can get the job done quickly and easily! Our sealcoating creates a protective barrier that shields against water penetration and other damage caused by exposure to the elements. This ensures that your driveway looks great for years to come.
At R. Stanley's Paving, we understand the importance of having a strong and durable driveway. That's why our team is dedicated to providing superior quality services at competitive prices. We'll work with you to identify the right solution for your needs and budget, so you can rest assured that your driveway will remain in excellent condition for many years to come.
Protect, Durable, and Long-Lasting Driveway Sealcoating
Sealcoating your driveway is an easy way to protect it from the elements. Doing so helps preserve its life by preventing damage such as cracking, fading, and water seepage. The sealant forms a barrier that shields against rain, snow, and harsh UV rays, while also making it easier to clean off dirt and debris. Plus, it adds a nice shine that enhances the look of your property.
Durability is another major benefit of sealcoating. A good quality sealant will last up to three years without needing reapplication. During this time, it provides continuous protection for your driveway. With regular maintenance, you can extend the lifespan of the coating even further. This saves you money in the long run since you won't need to replace the asphalt or concrete surface anytime soon.
The longevity of sealcoated driveways is remarkable. It's common for them to last ten years or more with proper care and maintenance. This means that if you invest in sealcoating now, you may never have to worry about your driveway again. You'll be able to enjoy the stunning looks and protection of the sealant for many years to come.
Why Is Driveway Sealcoating Important?
We all know how important it is to maintain the exterior of our homes. From mowing the lawn to power washing the siding, many of us take time each year to make sure that our homes look their best. But one often overlooked part of home maintenance is driveway sealcoating. Here are just a few reasons why driveway sealcoating should be a priority for every homeowner:
Prevent Cracks and Potholes – Sealcoating your driveway helps prevent small cracks from becoming larger ones, as well as preventing potholes from forming in the first place.
Enhance Curb Appeal – The appearance of your home can be drastically improved with freshly sealed driveways. A clean, smooth surface not only looks great but also increases the value of your property.
Extend the Life of Your Driveway – Regularly sealing your driveway will help extend its life by keeping out moisture, dirt, and debris. This means you won't have to worry about replacing it any time soon!
As you can see, driveway sealcoating is an essential part of maintaining your home's exterior. Not only does it protect your driveway from damage and improve the overall look of your home, but it can also save you money in the long run by extending the life of your driveway.
Frequently Asked Questions
What is driveway sealcoating?
Driveway sealcoating is a process of applying a protective coating to
asphalt driveways
to help protect against weather, wear and tear, and other elements.
What are the benefits of sealcoating?
Sealcoating can help prevent driveway cracking, fading, and pitting, while also extending the life of your driveway. It also helps make your driveway look more aesthetically pleasing.
How long does sealcoating last?
Depending on the quality of the sealcoat and the conditions of your driveway, sealcoating can typically last between 2-5 years.
How much does sealcoating cost?
The cost of sealcoating depends on the size and condition of your driveway. We offer free quotes, so
contact us
today to get a quote tailored to your needs.
What makes R. Stanley's the best choice for driveway sealcoating?
With 25 years of experience, you can trust that we will get the job done right. We only use professional, licensed contractors and all our materials are 100% US based. Plus, we guarantee your satisfaction with our work.