Reliable Driveway Sealcoating Services in Laureldale
R. Stanley's Paving offers professional Driveway Sealcoating Repair in Laureldale with 25 years of experience in the asphalt industry. Our licensed contractors are 100% US based and guarantee your satisfaction with every job we do. We use only the highest quality materials to ensure that your driveway is sealed properly, quickly, and efficiently. Call us today for a free quote and see why R. Stanley's Paving has been trusted by Laureldale residents for decades!
List of Features
25 yrs Expertise: Professional Results
Licensed US Contractors: Trustworthy Service
Free Quotes: No Risk Estimate
Satisfaction Guaranteed: Confidence in Quality
Asphalt Driveway Solutions: Enduring Beauty
Pave The Way to Success with R. Stanley's Paving – 100% US Based Asphalt Contractors With 25 Years of Experience. Experience Quality and Reliability – Satisfaction Guaranteed. Contact Us Today for Your Free Quote!
How Can We Help?
At R. Stanley's Paving, we can help you with all your driveway sealcoating needs. We believe in providing reliable, quality services that are done efficiently, so you won't have to worry about a thing. With our expertise and experience, we'll make sure that your driveway looks great and is protected from the elements for years to come.
Get the Most Efficient Driveway Sealcoating from R. Stanley's Paving in Laureldale, PA!
At R. Stanley's Paving, we have one core value that sets us apart – efficiency. We understand that your time is valuable, and you want to get the job done quickly and correctly with minimal disruption. That's why our experienced team of licensed contractors uses advanced techniques and equipment to make sure your driveway sealcoating project is completed efficiently and effectively every single time. When you hire R. Stanley's Paving for your driveway sealcoating needs, you can expect:
Skilled professionals who know how to get the job done right
Quality materials that form a long-lasting protective layer against water damage
Fast turnaround times so you don't have to wait around
Competitive prices that won't break the bank
Why Choose
R. Stanley's Paving for Your Driveway Sealcoating Needs?
Sealcoating is the perfect way to protect and prolong the life of your driveway. With R. Stanley's Paving, you can trust that:
Our sealant will create a protective barrier against weathering, erosion, and cracking.
You'll get long-lasting protection and increased durability for your driveway.
The sealant we use is designed to withstand all types of elements, ensuring it looks great for years to come.
So if you're looking for an effective solution to keep your driveway in top condition, look no further than our driveway sealcoating services. Get in touch with us today and let's discuss how we can help you make sure your driveway remains safe, durable, and attractive.
The Benefits of Driveway Sealcoating: Protection, Durability, and Beauty
Driveway sealcoating is an effective way to protect your driveway from the elements, keep it looking beautiful for years to come, and make sure that it stands up against wear and tear. With proper maintenance and regular resealing, you'll be able to enjoy all the benefits that driveways sealcoat has to offer. When it comes to protection, sealcoat acts as a barrier between your driveway and the harsh elements outside. Not only does it stop water seeping in and ruining the look of your driveway, but it also prevents snow and ice from damaging it during the winter months. With this added layer of protection, you don't have to worry about your driveway cracking or becoming unsightly due to weather damage. Durability is another great benefit of driveway sealcoating. When properly applied, the sealant will help prevent fading, chipping, and other forms of surface deterioration caused by heavy use. This means your driveway will stand up to traffic better and last longer. Plus, with fewer repairs needed over time, you can save money on costly replacements down the road. Lastly, having your driveway sealed adds a touch of beauty to your home. The smooth, matte finish gives your driveway a polished and uniform look while enhancing its overall aesthetic appeal. Thanks to its glossy sheen, your driveway won't just be protected from the elements – it'll look stunning too! In short, there are many advantages to having your driveway sealcoated. From the protective properties it offers to the enhanced appearance it provides, sealing your driveway is a smart solution for keeping it safe and beautiful.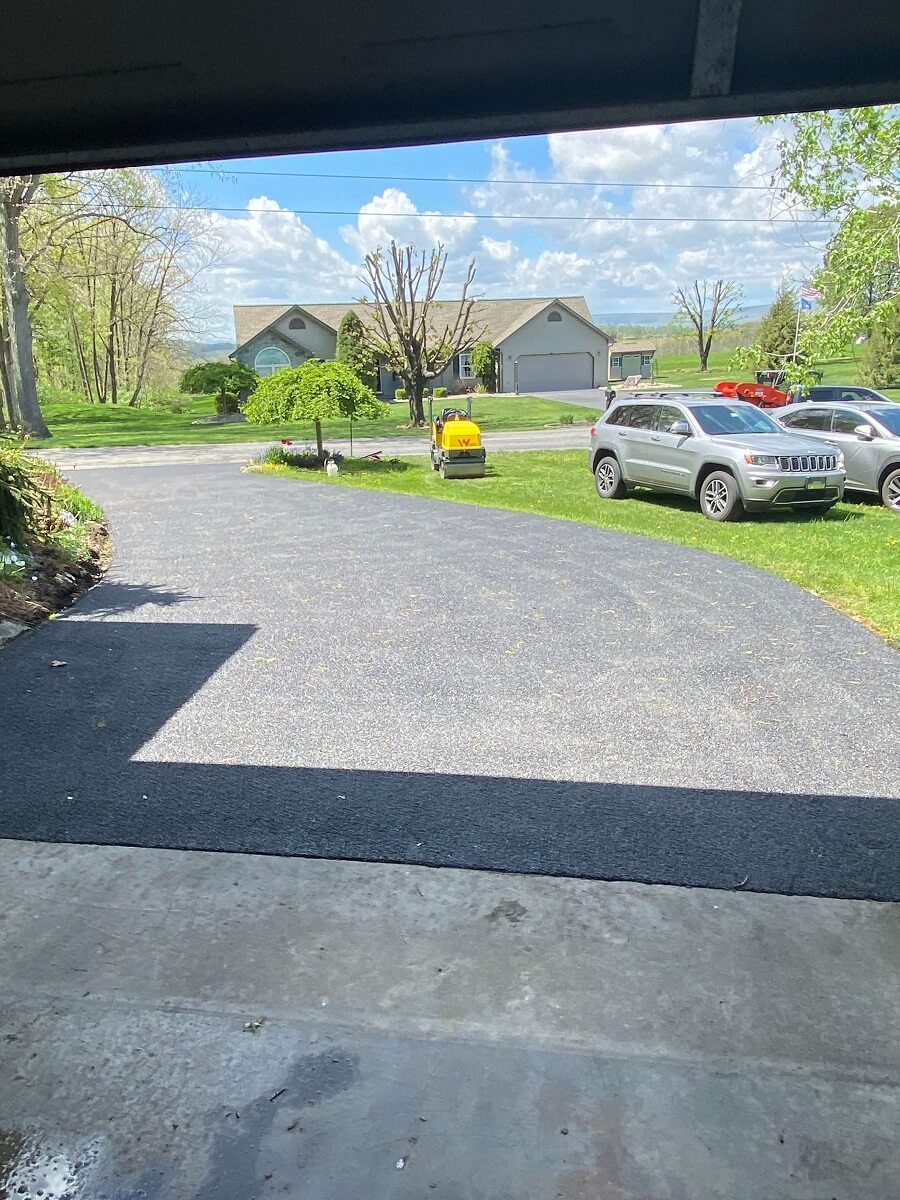 Protect & Enhance Your Driveway with Sealcoating
Your driveway is the first thing guests see when they pull up to your house, so you want to make sure it looks its best. With regular sealcoating from R. Stanley's Paving in Laureldale, PA, we can help keep your driveway looking great for years to come. Sealcoating helps protect your asphalt from water damage and UV rays that cause fading or cracking. It also prevents oil and other liquids from seeping into the surface of your driveway. Plus, a well-maintained driveway will boost the curb appeal of your property and add value to your home. We use only the highest quality materials available and all our sealcoating services are 100% US based. So if you're looking to keep your driveway looking top notch, R. Stanley's Paving has got you covered.
Frequently Asked Questions
What is driveway sealcoating?
Driveway sealcoating is a process of applying a protective coating to asphalt surfaces to protect them from the elements, reduce cracking and deterioration, and extend the life of the asphalt.
How often should I sealcoat my driveway?
We recommend sealcoating your driveway every 3-5 years. However, the frequency should be based on the condition of your driveway, so it's best to consult a professional.
What are the benefits of sealcoating?
Sealcoating provides many benefits, including a better looking driveway, protection from the elements, and increased lifespan. It can also help to prevent cracking and deterioration of the asphalt.
How long does sealcoating take?
Generally, the process of
sealcoating a driveway
takes a few hours, depending on the size and condition of the driveway.
Does R. Stanley's Paving offer free quotes?
Yes, we offer free quotes for all of our services. Contact us today to get started!